Gunpowder, treason and plot
I remember as a child watching my Dad out in the pouring rain trying to get fireworks to light, make catherine wheels spin and rockets take off. Standing in the warm living room, sparkler in hand, I took it for granted that that is what Dad;s are supposed to do. The little box of Lion fireworks didn't last long, but were always looked forward to.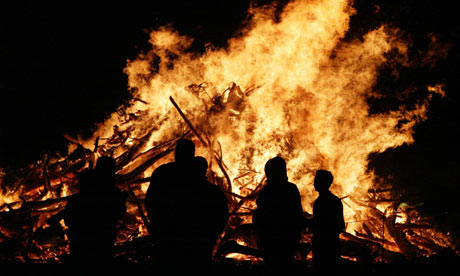 Even as an adult with no children of my own I have always enjoyed celebrating Bonfire Night, Firework Night, Guy Fawkes Night - call it what you will.
We have held some memorable firework parties in our time, the fireworks becoming more sophisticated and very expensive.
A couple of years ago we invited some friends round for a firework supper which consisted of
Roasted Red Pepper and Tomato Soup
Fiery Hot Banger Cassoulet
followed by
Toffee Apple Crumble.
but I can still appreciate the simplicity of a baked potato wrapped in foil and put into the bonfire, a hot dog with fried onions or a mug of hot soup standing round the fire - my front burning hot and my back icey cold.

It nearly always rains on bonfire night - it is a tradition.
I feel sad when I see the 'GUY' go up in smoke after all the hard work that has been put into it.
Also as a child taking my 'GUY' door to door and being given pennies - do children still do that any more - not round here they don't.
This year we are going to the village Bonfire Party where we will meet up with friends and their children - their faces glowing with excitement in the firelight.
Loud bangs, the whooshing of rockets and my favourite - sparklers - I have never grown out of my love of sparklers, trying to get them alight, and writing my name as they crackle and fizz.

And jumping jacks - do I remember jumping jacks - we used to have an outside toilet when I was little, and I can remember vividly being scared to death and screaming like a banshee when a jumping jack came in under the door.

Hey ho! Just a few of the joys of the 5th November.