I came across this intriguing painting the other day and wondered what the story was behind it.

Flora and the Zephyrs


by

John William Waterhouse

detail
charcoal study

John William Waterhouse's Flora and the Zephyrs takes its subject from Ovid's Fasti, which is a verse chronicle of the Roman calendar, and which incorporates the mythologies and historical legends of Rome where they can he associated with specific times of the year. Waterhouse's painting shows the moment when Zephyr first set eyes upon and fell in love with Flora, as she gathered flowers in the fields with her maidens and children. He flies down to her, accompanied by his winged companions, and captures her by casting a garland of white flowers around her.
Flora and the Zephyrs was exhibited at the Royal Academy in 1898 with Ariadne (private collection),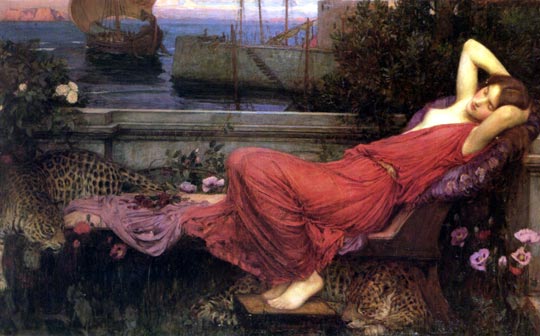 Ariadne was the daughter of King Minos of Crete

which showed the sleeping figure outstretched at the moment of her abandonment by Theseus. Two years later Waterhouse showed the Awakening of Adonis,

where again the main protagonist seems hardly aware of the unfolding drama. Waterhouse's paintings after the turn of the century were to become blander and more oblique in their storytelling, and seldom again did he achieve the psychological tension and sense of frenzied excitement of Flora and the Zephyrs.

1849-1917
John William Waterhouse
was an English painter known for working in the Pre-Raphaelite style.
He worked for several decades after the break-up of the Brotherhood, borrowing
stylistic influences not only from the earlier 'Pre-Raphs' but also from his
contemporaries the Impressionists - his artworks were known for their
depictions of women from both ancient Greek mythology
and Arthurian legend.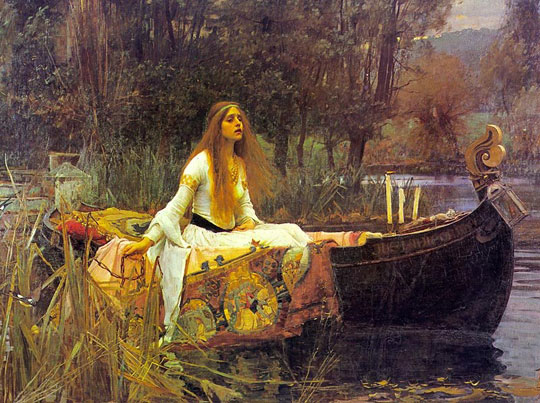 Probably Waterhouse's most famous work
The Lady of Shallot
Waterhouse had been suffering from cancer for some time and in 1916 while he continued to work on The Enchanted Garden
The Enchanted Garden
he was approaching the end of his journey. A beautiful planter decorated with grapevines, deer and birds (of a type that may be found in an enchanted garden) now rests upon the slab that covers the Waterhouse gravesite at Kensal Green Cemetery.
"The painting makes a fitting epitaph - for what is the work of Waterhouse - if not an enchanted garden"!.
John William Waterhouse died on 10 February 1917 before the painting was finished.
His art continues to bring joy and inspiration to many.
I have used two of his paintings to illustrate a post on The Scented Garden - Roses
here
on my other blog Ramblings from Rosebank